The Marie Skłodowska-Curie Actions (MSCA), which comprise one of the pillars of Horizon2020, support the training and development of careers in the field of research, with special emphasis on innovation skills.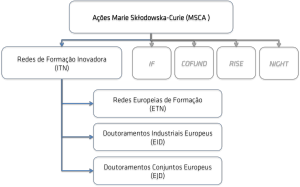 The MSCA support international and cross-sectoral mobility in all areas in a "bottom-up" approach.
One of  MSCA typologies is the Innovative Training Networks (ITN). They bring together universities, research centers and companies and aim to train a new generation of researchers. Funding promotes scientific excellence and business innovation.
ITN project proposals can be of three types:
European Joint Doctorates (EJD)
Network with the aim of granting joint, double or multiple degrees. The objective is to promote international, intersectoral and multi / interdisciplinary collaboration in doctoral training in Europe.
European Training Networks (ETN)
Joint training in the area of ​​research, provided by academic and non-academic partners. The objective is to enable the researcher to acquire experience in different sectors and develop transferable skills, working on joint research projects.
European Industrial Doctorates (EID)
Joint doctorates by academic and non-academic partners, preferably companies. Each participating researcher must spend at least 50% of his or her activity to the non-academic sector.
Action
Key Points
European Joint Doctorates (EJD)
Max. Grant: 540 person-months per EJD

Duration: 48 months

Min. no. beneficiaries: 3 doctoral degree- awarding organisations from different countries

European Training Networks (ETN)
Max. Grant: 540 person-months per ETN

Duration: 48 months

Min. no. beneficiaries: 3 from different countries

European Industrial Doctorates (EID)
Max. Grant:

180 person-months per ETN (of 2 beneficiaries)
540 person-months per ETN (> 2 beneficiaries)

Duration: 48 months

Min. no. beneficiaries: 2 (1 academic; 1 non- academic) from different countries