VULCANUS Programme
Are you a 4th year or penultimate year PhD student? Are you looking for an international internship experience? Apply to the Vulcanus Program! This one-year Program takes place entirely in Japan and offers the possibility to do an internship in a Japanese company. The Program starts in September and ends in August of the following year. It's a unique opportunity to travel to the country of the rising sun and take a close look at its business culture.
Activities include:
seminar on Japan
intensive Japanese language course (4 months)
Internship in a Japanese company (8 months).
Eligibility Criteria:
have EU/COSME* nationality
be a student of engineering or science
be enrolled until at least June following the Vulcanus application deadline
be enrolled in a study cycle between the 4th year or penultimate year of a PhD at the time of application.
be available to take one year off from studies
*) For non-EU applicants: check if your country belongs to the COSME Program and if the agreement is in force .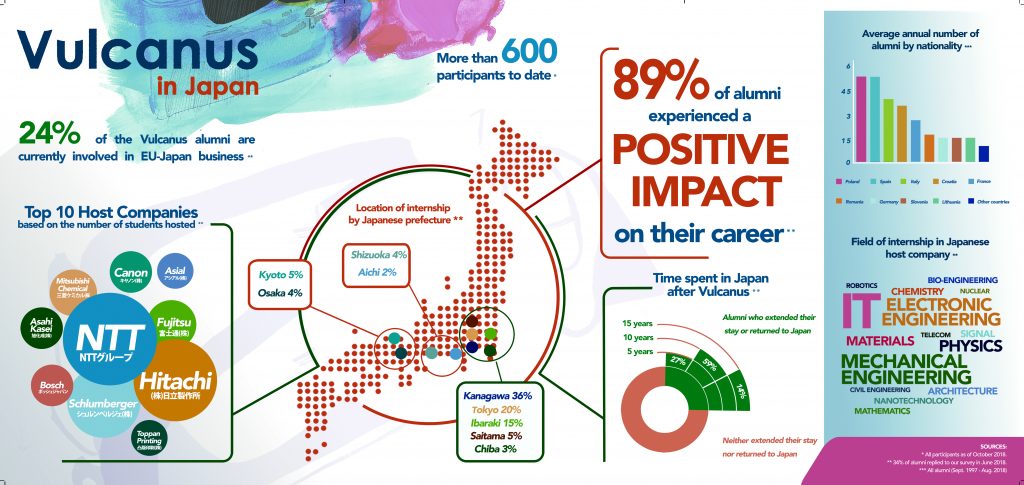 Applications: Annually, between January/February.
Usual application documents:
Application Form
CV
Motivation letter
Letter of recommendation
Transcript of Records (provided by NMCI)
Grading system (provided by NMCI)
Enrollment certificate (downloaded from https://drive.tecnico.ulisboa.pt/ )
Frequently Asked Questions…
Can I use the work from this internship for my Dissertation/Thesis?
The work from these internships cannot be used for University Dissertations/Theses.
Can I apply after I graduate?
No. In addition to having to show that you are enrolled until at least 3 months before the Program starts (June), you cannot complete your studies before this period. The Program must be attended uninterruptedly. This means that you cannot interrupt the Program to come to Portugal for the presentation and public defense of your Dissertation/Thesis, for example.
Is housing offered?
Normally, accommodation is offered throughout the Program.
Can students suggest companies?
No. Applications from companies to offer internships are handled directly between the companies and the Program.
Are Architecture students eligible?
Yes. But, we recommend consulting the list of internship offers published on the Program page.
Do I have to choose one of the internship offers when I apply?
No. You are not obliged, at the time of Application, to express interest in any particular offer(s).
Will the internship offer list be updated during the application period?
It is unlikely that the list of offers will be updated – the companies themselves have a deadline for applying to the Program. However, it can happen.
Is the deposit due at registration or only if selected?
The deposit is only due in case of selection.
If I withdraw from the Program, am I reimbursed for the deposit?
If you withdraw from the Program, you are not reimbursed. Please note: you must be committed to the Program. For cultural reasons, a withdrawal, after selection, is a very sensitive issue and could damage the company's relationship with the Program, to the point that they will no longer accept students.
Testimonial from a participant: click here
More information about the Vulcanus Program: click here 
For more information contact: internships@tecnico.ulisboa.pt