InnoEnergy Education
The European Institute of Innovation and Technology (EIT) was created under the Lisbon Strategy. Its mission is to grow and capitalise on the innovation capacity and capability of actors from higher education, research, business and entrepreneurship from the EU and beyond through the creation of highly integrated Knowledge and Innovation Communities (KICs).
Instituto Superior Técnico was recognized as a strategic partner for the new Knowledge and Innovation Community  EIT InnoEnergy (rebranding KIC InnoEnergy), whose aim is to promote innovation through 6 european central offices, in the key area of energy. IST is the formal partner of the central office InnoEnergy IBERIA whose main activity theme is renewable energies.
EIT InnoEnergy (rebranding KIC InnoEnergy) educational programmes are directed towards a completely new type of education in the energy field, mobilising the innovative and entrepreneurial spirit of the students. At the same time, the full energy knowledge students receive in "classical" programmes is kept. This will give the graduates a very deep understanding of the world's energy challenges paired with a significant insight into how energy businesses are created and into the industrial perspective of the energy side.
The existing programmes are EIT InnoEnergy  master programmes: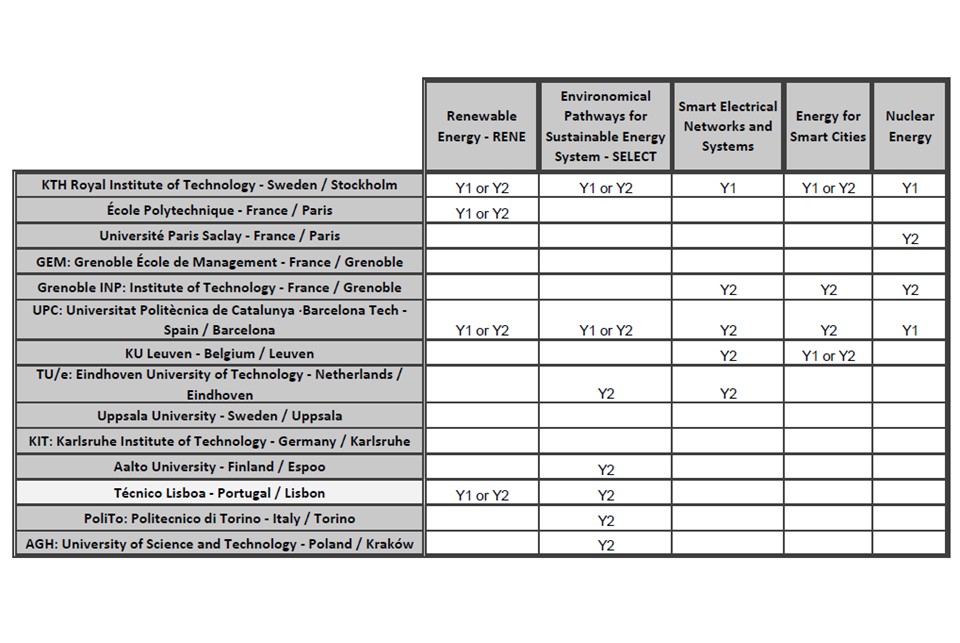 Applications for of EIT  InnoEnergy  Master School 2021/2022 will be open in the following periods:
Round 1: 11 September 2023 – 08 November 2023
Round 2:  13 November 2023 – 21 January 2024
Round 3:  29 January 2024 – 10 March 2024
Round 4:  18 March 2024 – 28 April 2024
Round 5: 02 May 2024 – 09 June 2024
More information at https://www.innoenergy.com/for-students-learners/master-school/.
For more information contact:
 Rossela Leitão – Instituto Superior Técnico (MSc Student Support – Mobility Office)
Guilherme Carrazzoni – Instituto Superior Técnico (MSc Student Support – Mobility Office)
FAQs:
What do I need to apply?
A copy of the completed degree diploma (with a minimum value of 180 ECTS credits)
A copy of the Transcript of records
English language proficiency
Curriculum / curriculum
A copy of the passport
Specific program requirements – See which and if applicable on the website of each program
I am finishing the 3rd year of my degree. Can't I apply?
You can. NMCI gives you a statement that you have academic conditions to complete your degree. Contact eit.innoenergy@tecnico.ulisboa.pt
Which degrees are eligible to apply for this program?
All of the IST
"The EIT Label is a quality seal awarded by the European Institute of Innovation and Technology (EIT) to a KIC educational programme that has been assessed positively by the EIT on the implementation of the EIT Quality Assurance and Learning Enhancement (EIT QALE) system and the application of specific quality criteria with focus on the EIT Overarching Learning Outcomes (EIT OLOs), robust entrepreneurship education, highly integrated, innovative 'learning‐by‐doing' curricula, international mobility and outreach."