Reminder: 5th Unite! Dialogue meeting (online)
5th Unite! Dialogue in Stockholm, New Horizons, part one, takes place on the 8th – 10th March.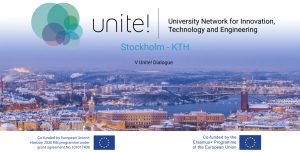 Registration is now open, please use the following link to enter your details:
https://www.kth.se/form/61b0cd049a7e76001345ba04
We welcome everyone at your university to attend the open Unite! plenary sessions:
9th March 10:00 – 12:00 (CET) – Unite! Dialogue Plenary Session
10th March 09:00-11:30 (CET) – H2020 Plenary Session
The Unite! Dialogue Plenary session will present the current developments of Unite! and the H2020 Plenary Session will present the progress of the UNITE.H2020 project, please see agenda attached.
The 5th Unite! Dialogue also includes sessions for the Unite! Governing Platform, Unite Academic Forum and General Assembly H2020. Further information will and have been sent to concerned parties separately.
For more information: https://www.unite-university.eu/ .
Categories